By Christine Baldwin
On Saturday, Nov. 10, the annual story telling event by the Double Nickels Speak Easy occurred. This year it featured true stories from childhood, wartime events and current times. Esker McConnell introduced each story. It began with a touching story told by Catharine Deitch, titled "Depression Days", in which, as children, she and her sister had to make a huge decision regarding buying coats or saving some chickens' lives. Next, Roger Polhemus gave his tale of when he was at school called "Frogs Eggs or Where is the Chalk?" This story was acted out in silhouette, as he recited the tale. We then heard a recording of a childhood event from Melvin Ford, who had lived 2 blocks away from the home in 1949. His story was titled "The Day the Flying Saucer Crashed at the Old Soldier's Home." It was nice having Mr. Ford present for the story.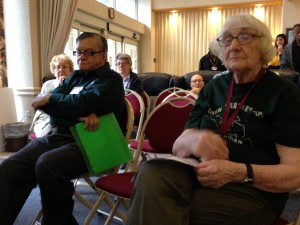 The group has added another dimension to their story telling by embracing improvisation. John Kershaw, Martin Cody and Antoinette Ford gave a demonstration of this skill with a current talk on "How I Got Southernized". Two World War 2 stories followed. The first titled "Displaced Persons" by George Smith, relating an event that took place in Czechoslovakia dealing with these refugees. Then we heard "Submarining is for Me" by August Kulick, telling how he got into the service and what happened on one of the missions. Esker McConnell summarized the event by telling of the importance of honoring Veteran's Day, and dedicating the program to Billy Ray White, who was representing the home at the Royal Hospital Chelsea in England. Patrick Goldsworthy ended the program by playing a heartfelt 'Taps' on his harmonica.
A special thanks goes out to Antoinette Ford, director of the Double Nickels Reminiscence Theatre Co., who continues to help the story telling programs to excel. Also, John Woo with his tireless work in the photography of the Speak Easy sessions and in preparing and acting out the silhouette enhancements. We also want to thank Roslyn Johnson, with the background music selections and silhouette acting.