ANTOINETTE FORD
                     Founder & President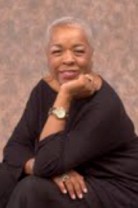 Double Nickels encourages seniors to stay actively involved with their communities, young people, and people of differing cultures. Through the medium of Reminiscence Theatre, Toni encourages seniors to celebrate their legacy by highlighting and sharing their lives through theatrical performances, original music, publication of reminiscences and artistic renderings.
Having worked in a variety of specialized fields, Toni carries over 25 years of experience.  Toni's first career was as an Oceanographer. As an entrepreneur, Toni's firm earned a patent for an antiglare product and held a patent license from NASA which later went on to be the first company to be sponsored by NASA in a high technology incubator. Between 1985 and 1998 she built another technology company from start-up to a multi-million dollar operation before selling it to seek other challenges.
In addition to being the first African American woman White House Fellow, Toni was appointed by President Ronald Reagan to serve as Administrator of the Agency for International Development, Near East, North Africa and Europe regions. Toni also served as an appointed member of the DC City Council.
Antoinette Ford continues to put her energy into building the Double Nickels Theatre Company. She plays tennis and has earned a place on the DC Senior Olympics tennis team and takes 'cello lessons to enhance her storytelling performances with Double Nickels. She is a volunteer at the Town Hall Education Arts and Recreation Campus (THEARC) and a member of the Board of Directors of the DC Public Library Foundation.
Toni holds an MBA from the Harvard Business School, an M.S. from American University, and a B.S. from Chestnut Hill College.  She was appointed a Fellow at the Harvard University Institute of Politics and was also appointed a National Science Foundation Fellow, Stanford University with a focus in Oceanography.